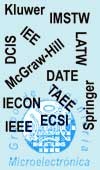 Mapa Web

Localización

Noticias

Info Santander

Gestión BD

GIM>Investigación>Publicación
PUBLICACION
Ficha completa
Título:
Multi-objective Design Space Exploration of Multiprocessor SoC Architectures: the MULTICUBE Approach
Tipo:
Libro completo
Lugar:
Springer, New York, USA
Fecha:
2011-10
Autores:
C. Silvano
W. Fornaciari
Eugenio Villar

Líneas:
Diseño y verificación de sistemas embebidos HW/SW

Proyectos:
FP7 216693 MULTICUBE

ISBN:
978-1-4419-88362
Fichero:
Resumen:
The book is an in-depth analysis of the current state of design-space exploration techniques for HW/SW embedded system. It also describes the progress beyond the state-of-the-art achieved by the FP7 MultiCube project.
The editors sincerely hope that the book could become a solid reference in the next years. In our vision, the authors put a big effort in clearly presenting their technical contribution outlining the potential impact and some case studies. We would like to have
the opportunity to give special thank to all the authors who contributed to the book and to Charles Glaser from Springer for encouraging us from the beginning of this book.

Book.