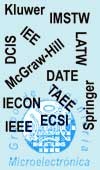 Mapa Web

Localización

Noticias

Info Santander

Gestión BD

GIM>Investigación>Publicación
PUBLICACION
Ficha completa
Título:
Design-for-Test Method for High-Speed ADCs: Behavioral Description and Optimization
Tipo:
Publicacion en Proceedings o Actas internacionales
Lugar:
IEEE Symposium on Design and Diagnostics of Electronic Circuits and Systems (DDECS´11), Cottbus (Germany)
Fecha:
2011-04
Autores:
Yolanda Lechuga
Román Mozuelos
Mar Martínez
Salvador Bracho

Líneas:
Proyectos:
ISBN:
978-1-4244-97546
Fichero:
Resumen:
This paper presents a Design-for-Test (DfT) approach for folded analog to digital converters. A sensor circuit is designed to sample several internal ADC test points at the same time, so that, by computing the relative deviation among them the presence of a defect can be detected. A fault evaluation is carried out on a behavioral model to compare the coverage of the proposed test approach with the one obtained from a functional test. Then, the analysis is moved to a transistor level implementation of the ADC to establish the threshold limits for the DfT circuit that maximize the fault coverage figure of the test approach.