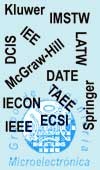 Mapa Web

Localización

Noticias

Info Santander

Gestión BD

GIM>Investigación>Publicación
PUBLICACION
Ficha completa
Título:
The SATURN Approach to SysML-Based HW/SW Codesign
Tipo:
Capitulo de libro
Lugar:
N. Voros, A. Mukherjee, N. Sklavos, K. Masselos, M. Huebner (Eds.): "VLSI 2010 Annual Symposium Selected Papers", Lecture Notes in Electrical Engineering, V.57, pp. 151-164, Springer
Fecha:
2011-10
Autores:
W. Mueller
D. He
F. Mischkalla
A. Wegele
A. Larkham
P. Whiston
Pablo Peñil
Eugenio Villar
N. Mitas
D. Kritharidis
F. Azcarate
M. Carballeda

Líneas:
Proyectos:
ISBN:
978-94-007-14878
Fichero:
Resumen:
The main obstacle for the wide acceptance of UML and SysML in the design of electronic systems is due to a major gap in the design flow between UML-based modeling and SystemC-based verification. To overcome this gap, we present an approach developed in the SATURN project which introduces UML profiles for the co-modeling of SystemC and C with code generation support in the context of ARTiSAN Studio®. We finally discuss the evaluation of the approach by two case studies.
Book Chapter.