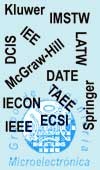 Mapa Web

Localización

Noticias

Info Santander

Gestión BD

GIM>Investigación>Publicación
PUBLICACION
Ficha completa
Título:
Early performance evaluation of Multi-OS embedded platforms using native simulation
Tipo:
Publicacion en Proceedings o Actas internacionales
Lugar:
Euromicro Conference on Digital System Design, DSD 2013, IEEE, doi: 10.1109/DSD.2013.131
Fecha:
2013-09
Autores:
R. Fernández
Héctor Posadas
Eugenio Villar

Líneas:
Diseño y verificación de sistemas embebidos HW/SW

Proyectos:
FP7 288307 PHARAON

ISBN:
978-0-7695-50749
Fichero:
Resumen:
The increase in complexity of electronic systems has opened the way to the use of different types of operating systems working together. The development of these systems requires simulation infrastructures where the entire system, including all its OSs, can be simulated, both for functional verification and performance evaluation. However, the generation of such simulation infrastructures with current technologies usually requires a huge effort that high-level engineers cannot support.
In order to solve this problem, the paper presents a solution for
simulating systems composed of different kinds of OSs. The approach is based on native simulation and presents an example combining Linux and Win32 systems in a single simulation. This example ensures usability since these are two of the most complex OSs commonly integrated in electronic devices. Nevertheless, the idea can also be extended to support other OSs. As a result, engineers can take advantage of an infrastructure capable of modeling complex architectures with different operating systems requiring relatively little design effort, for early system evaluation at the beginning of the design process.