Bienvenido a la página de OPTOEL11
Presentation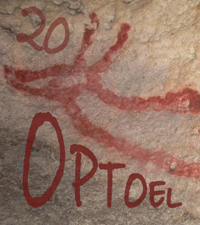 Photonics is considered by the European Union one out of the five key technologies (KET: Key Enabling Technologies) for the European scientific, technological and economic development. OPTOEL was born as a suitable fórum to communicate, discuss and share the latest scientific and technological advances in the Photonics field (in the broadest sense of the word).
 In this way, with the aim of gathering both researchers and professionals developing their activity within the field of both optoelectronics and optical communications in our country, the first OPTOEL congress took place in Teruel in 1999, supported by the Optoelectronics committee of the Optics Spanish Society (SEDOPTICA). With a constant growth in participation and also in international visibility, the congress has been organized every two years in regions with a significant relevance for this sector. After the first edition, which took place in Aragon, and the following in Barcelona, Madrid, Elche, Bilbao and Málaga, Santander will be the meeting point for the VII Optoelectronics National Meeting OPTOEL 2011.
OPTOEL 2011 will take place in the Hotel Santemar, Santander (29-30 June 2011 and 1 July 2011)
The official languages of the meeting are both Spanish and English
The main goals of OPTOEL 2011 are:
To facilitate a debate forum on accomplished advances and new trends within the Photonics field, considering all its areas without exception.


To foster the collaboration and cohesion among the different technological actors in our country.

To provide international visibility to both industry and research groups in Spain.

To stimulate the participation and interaction of the youngest researchers.
To fulfill these goals seven invited Lectures-Tutorials, performed by well-known figures acknowledged internationally by their excellence, will be held. The communications will be presented in poster format and, in addition, an exhibition with companies working in any of the photonics sectors (optical fibers, optical communications, optoelectronics, integrated optics, optical sensors, optical spectroscopy, material processing, metrology, non-destructive testing, biophotonics, etc.) will be organized.
Last Updated (Monday, 13 June 2011 14:21)