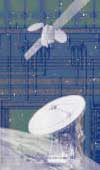 Web Map

Location

News

Santander Info

GIM>Research>project>ESPRIT 8370 ESIP...
PROJECT:
ESPRIT 8370 ESIP
Select this link to see PUBLICATIONS within this project

Title:
ESPRIT 8370 ESIP
Acronym:
Payer:
ESPRIT
Partners:
BULL, ICL, SIEMENS-NIXDORF, PHILIPS, ZUKEN-REDAC, THOMSON, ANACAD, SYNTHESIA, CNET y TGI
Budget:
152000€
Years, begin:
1996
end:
1998
Director:
Eugenio Villar
R&D Lines:
Design and verification of HW/SW embedded systems

Staff:
Víctor Fernández
Fernando Herrera
Pablo Pedro Sánchez
Iñigo Ugarte
Eugenio Villar

Description:
La utilización del lenguaje VHDL en síntesis obliga a un estudio de las restricciones sintácticas a imponer y del estilo descriptivo a utilizar. Nuestra participación en el proyecto nos permitió contribuir activamente a este esfuerzo internacional. En este proyecto participamos como partner asociado a TGI. Varios de los resultados fueron remitidos al IEEE como contribución al proceso de estandarización en síntesis.