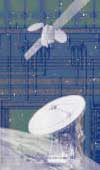 Web Map

Location

News

Santander Info

GIM>Research>project>Estudio de Viabilida...
PROJECT:
Estudio de Viabilidad de DVB-S2 en Banda Ka
Select this link to see PUBLICATIONS within this project

Title:
Estudio de Viabilidad de DVB-S2 en Banda Ka
Acronym:
Payer:
CDTI (PROFIT)
Partners:
Budget:
33000€
Years, begin:
2003
end:
2004
Director:
Víctor Fernández
R&D Lines:
Design and verification of electronic systems for communications

Staff:
Víctor Fernández
Jesús Miguel Pérez
Victorina Fernández
Héctor Posadas

Description:
El grupo DVB ha definido un nuevo estándar para la difusión digital por satélite. Es el DVB-S2 que sustituye al actual DVB-S. El nuevo estándar está basado en nuevos conceptos de codificación y modulación adaptativa. Para soportar estos nuevos conceptos se propone una sistema con altos requerimientos que es necesario evaluar para una posible implementación sobre circuito integrado (sea programable o a medida). En este proyecto se desarrolló un estudio de la viabilidad tecnológica del nuevo estándar.