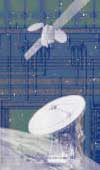 Web Map

Location

News

Santander Info

GIM>Research>project>ESPRIT: EUROCHIP: VL...
PROJECT:
ESPRIT: EUROCHIP: VLSI Design Action
Select this link to see PUBLICATIONS within this project

Title:
ESPRIT: EUROCHIP: VLSI Design Action
Acronym:
Payer:
The Commission of the European Communities
Partners:
GMD(D), CMP(F), RAL(UK), IMEC(B), DTH(DK), CNM(E) & GIM/UC
Budget:
€
Years, begin:
1989
end:
1994
Director:
Salvador Bracho
R&D Lines:
Formation of engineers in design and test techniques for VLSI circuits

Staff:
Miguel Angel Allende
Francisco J. Azcondo
Salvador Bracho
Rosario Casanueva
Víctor Fernández
Mar Martínez
Román Mozuelos
Pablo Pedro Sánchez
Eugenio Villar

Description:
El Grupo de Ingeniería Microelectrónica de la Universidad de Cantabria fue institución participante(PI), lo que significó la formación de licenciados e ingenieros en técnicas de diseño de circuitos integrados VLSI, dentro de un consorcio de universidades europeas, con compromisos concretos en cuanto al número de circuitos a diseñar por año, nivel de los programas de formación, test de los circuitos diseñados, etc. Los diseños realizados por los alumnos dentro de dicho programa han dado lugar a numerosas publicaciones, tanto internacionales como nacionales. Una de estas comunicaciones fue merecedora del premio al mejor diseño realizado por alumnos en Europa en 1991, en el 4º Workshop de Eurochip.