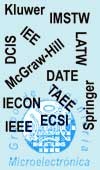 Web Map

Location

News

Santander Info

GIM>Research>Publication
PUBLICATION
Full record
Title:
"Laboratorio remoto de Electrónica Industrial"
Type:
International Conference
Where:
Proc. of the Annual Seminar on Automatic Control, Industrial Electronics and Automation (SAAEI'04)Toulouse
Date:
2004-09
Authors:
María Valderrama
Salvador Bracho
Francisco J. Azcondo
Francisco Javier Díaz

R&D Lines:
Projects:
ISBN:
2-907801-06-6
PDF File:
Abstract:
En este artículo se presenta un sistema de medida remoto aplicado a la caracterización del funcionamiento de topologías básicas de convertidores electrónicos de potencia. Para ello, se ha diseñado un entorno virtual del Laboratorio, que puede ser visualizado a través de una página web. Se podrá acceder desde cualquier conexión a internet gracias al uso del "Internet Toolkit", y desde donde el alumno realiza las medidas. La programación de los instrumentos se realiza mediante Labview, bajo el estándar IEEE488. Como medida de seguridad, se ha creado una base de datos Access, en la que cada usuario introduce una clave de acceso, y permite al responsable llevar un control personalizado.