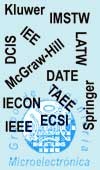 Web Map

Location

News

Santander Info

GIM>Research>Publication
PUBLICATION
Full record
Title:
TLM interrupt modelling for HW/SW co-simulation in SystemC
Type:
International Conference
Where:
XXI Conference on Design of Circuits and Integrated Systems, DCIS'06
Date:
2006-11
Authors:
Héctor Posadas
David Quijano
Eugenio Villar
F. Escuder (DS2)
M. Martínez (DS2)

R&D Lines:
Design and verification of HW/SW embedded systems

Projects:
Medea+ 2A708 LoMoSa+

ISBN:
978-84-690-41444
PDF File:
Abstract:
In this paper, the PERFidiX tool developed in the ITEA Merced project, is improved with the inclusion in the abstract model of the RTOS of the interrupts generated by the HW modules. Interruptions, and in general the whole bus are modelled using the TLM standard. This ensures a wide usability of the proposed model.