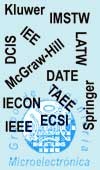 Web Map

Location

News

Santander Info

GIM>Research>Publication
PUBLICATION
Full record
Title:
Protocol Bus Modeling using inheritance with TLM2.0
Type:
International Conference
Where:
Proceedings of the Forum on Design Languages, FDL'07. Barcelona
Date:
2007-09
Authors:
Héctor Posadas
David Quijano
Eugenio Villar
Marcos Martínez (DS2)

R&D Lines:
Design and verification of HW/SW embedded systems

Projects:
Medea+ 2A708 LoMoSa+

ISBN:
978-2-9530504-00
PDF File:
see file
Abstract:
With the increase of HW/SW system complexity, effective mechanisms for HW/SW co-simulation are required. The system bus is the intermediate element in these communications, so adequate bus modeling is critical. However, this modeling has to be able to drive the system refinement process as easily as possible. Different bus protocols at different description levels have to be integrated and modified in the processor and peripheral models. This work proposes a generic bus model where OO Programming inheritance techniques are used to integrate it into the platform element descriptions. This technique enables the substitution of the different bus models at different abstraction levels in a semi-automatic way.