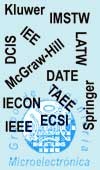 Web Map

Location

News

Santander Info

GIM>Research>Publication
PUBLICATION
Full record
Title:
SystemC
Type:
Book chapter
Where:
ARTIST Survey of Programming Languages. Alan Burns (Editor)
Date:
2008-08
Authors:
Víctor Fernández
Eugenio Villar

R&D Lines:
Design and verification of HW/SW embedded systems

Projects:
Tecnologías de Verificación e Implementación en plataforma de Sistemas E...

ISBN:
PDF File:
Abstract:
The production of real-time and embedded systems involves the use of many different tools and techniques. As these systems become more software centric, programming languages employed in the production of this software are now of crucial importance. This survey considers over twenty programming languages. The short reports available on each language aim to introduce the main features of the language, provide the links to further sources of information, and give an indication of the current developments within the language. Our contribution to the survey presents SystemC for the specification, modeling, simulation and design of embedded systems. Access to the survey.