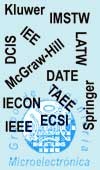 Web Map

Location

News

Santander Info

GIM>Research>Publication
PUBLICATION
Full record
Title:
Generating Heterogeneous Executable Specifications in SystemC from UML/MARTE Models
Type:
Book chapter
Where:
in "Innovations in Systems and Software Engineering", V.6, N.1-2, March, Springer
Date:
2009-12
Authors:
Pablo Peñil
J. Medina (CTR)
Héctor Posadas
Eugenio Villar

R&D Lines:
Design and verification of HW/SW embedded systems

Projects:
FP7 216807 SATURN

ISBN:
1614-5046
PDF File:
Abstract:
By using the MARTE profile, the designer can capture the behaviour semantics of different MoCCs in UML models. From these UML/MARTE models, it is possible to generate executables specification in SystemC. In order to preserve the MoCCs semantics in the SystemC specifications, the HetSC methodology provides the necessary channels.
Access to the paper.