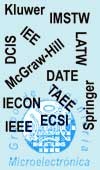 Web Map

Location

News

Santander Info

GIM>Research>Publication
PUBLICATION
Full record
Title:
The MULTICUBE Design Flow
Type:
Book chapter
Where:
C. Silvano, W. Fornaciari & E. Villar (Eds.): "Multi-objective Design Space Exploration of Multiprocessor SoC Architectures: the MULTICUBE Approach", Springer, New York, USA
Date:
2011-10
Authors:
C. Silvano
W. Fornaciari
G. Palermo
V. Zaccaria
F. Castro
M. Martínez
S. Bocchio
R. Zafalon
P. Avasare
G. Vanmeerbeeck
C. Ykman-Couvreur
M. Wouters
C. Kavka
L. Onesti
A. Turco
U. Bondi
G. Mariani
Héctor Posadas
Eugenio Villar
C. Wu
F. Dongrui
Z. Hao

R&D Lines:
Design of HW/SW Embedded Systems

Projects:
FP7 216693 MULTICUBE

ISBN:
978-1-4419-88362
PDF File:
Abstract:
In this chapter, the complete design flow for complex embedded systems based on the automatic exploration of the design-space, is presented.

Book.