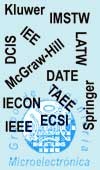 Web Map

Location

News

Santander Info

GIM>Research>Publication
PUBLICATION
Full record
Title:
A MDD Methodology for the Specification and Performance Estimation of Embedded Systems
Type:
International Conference
Where:
Tutorial B: Advanced Techniques for Power-Aware System-Level Prototyping, DATE'13
Date:
2013-03
Authors:
Fernando Herrera
Héctor Posadas
Pablo Peñil
Eugenio Villar
Pablo Pedro Sánchez
Pablo González
F. Ferrero (GMV)
R. Valencia (GMV)

R&D Lines:
Design and verification of HW/SW embedded systems

Projects:
FP7 IP 247999 COMPLEX

ISBN:
PDF File:
Abstract:
In the design of embedded systems extra-functional properties like timing and power need to be considered during the entire design process. Often these properties can only be estimated after manually implementing a design for a certain target platform and using component-level timing and power analysis tools. At the same time, exploration, analysis, and optimization of embedded applications running on today's platforms require fast and early virtual system models enabling the consideration of extra-functional properties under real-world application scenarios.

With a group of experts from industry and academia, the tutorial discussed the major challenges and presented novel and innovative research results including tool support to create timing and power-aware Virtual Platforms. In this presentation, the Model-driven design and automatic platform performance and power model synthesis, enabling early design space exploration was described.