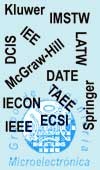 Web Map

Location

News

Santander Info

GIM>Research>Publication
PUBLICATION
Full record
Title:
Modeling of an implantable device for remote arterial pressure measurement
Type:
International Conference
Where:
SPIE Microtechnologies 2013
Date:
2013-04
Authors:
Jose Angel Miguel
Yolanda Lechuga
Román Mozuelos
Mar Martínez

R&D Lines:
Test methods of digital and mixed integrated circuits

Projects:
Diseño Testable de Sistemas Heterogéneos con Aplicación a Electrónica Méd...

ISBN:
9780819495624
PDF File:
Abstract:
Cardiovascular diseases are the leading causes of illness and death in Europe, having a major impact on healthcare costs.
An intelligent stent (e-stent), capable of obtaining and transmitting measurements of physiological parameters, can be a useful tool for real-time monitorization of arterial blockage without patient hospitalization. In this paper, a behavioral model of a pressure sensing-based e-stent is proposed and simulated under several restenosis conditions. Special attention has been given to the need of an accurate fault model, obtained from realistic finite-element simulations, to ensure long-term reliability; particularly for those faults whose behavior cannot be described by usual analytical models.