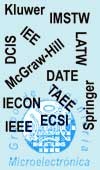 Web Map

Location

News

Santander Info

GIM>Research>Publication
PUBLICATION
Full record
Title:
CONTREX: Design of Embedded Mixed-Criticality CONTRol Systems under Consideration of EXtra-Functional Properties
Type:
International Conference
Where:
19th Euromicro Conference on Digital System Design, DSD 2016, IEEE
Date:
2016-09
Authors:
R. Gorgen
K. Gruttner
Fernando Herrera
Pablo Peñil
J. Medina
Eugenio Villar
G. Palermo
W. Fornaciari
C. Brandolese
D. Gadioli
et. al.

R&D Lines:
Design and verification of HW/SW embedded systems

Projects:
FP7 611146 CONTREX

ISBN:
97815090-2816-0
PDF File:
see file
Abstract:
The increasing processing power of today's HW/SW
platforms leads to the integration of more and more functions in
a single device. Additional design challenges arise when these
functions share computing resources and belong to different
criticality levels. The paper presents the CONTREX European
project and its preliminary results. CONTREX complements
current activities in the area of predictable computing platforms
and segregation mechanisms with techniques to consider the
extra-functional properties, i.e., timing constraints, power, and
temperature. CONTREX enables energy efficient and cost aware
design through analysis and optimization of these properties with
regard to application demands at different criticality levels.