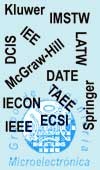 Mapa Web

Localización

Noticias

Info Santander

Gestión BD

GIM>Investigación>Publicación
PUBLICACION
Ficha completa
Título:
SCoPE: SystemC Cosimulation and Performance Estimation. Application to Power and Thermal-Aware Design
Tipo:
Comunicaciones a congresos internacionales
Lugar:
University Booth, DATE 11, Grenoble
Fecha:
2011-03
Autores:
Daniel Calvo
Pablo González
Héctor Posadas
Pablo Pedro Sánchez
Eugenio Villar
Andrea Acquaviva
Enrico Macii
Claudio Parrella
Mateo Giaconia

Líneas:
Diseño y verificación de sistemas embebidos HW/SW

Proyectos:
Artemis SCALOPES

ISBN:
Fichero:
ver fichero
Resumen:
This demo shows the capabilities of SCoPE, an MPSoC native simulator based on SystemC that enables early performance and power consumption estimations to be efficiently obtained, taking into account both software and hardware effects, like caches impact. Moreover, Potest, an MPSoC thermal model from Politecnico di Torino, has been integrated to estimate chip temperatures. The resulting framework will be demonstrated by modeling an embedded platform.