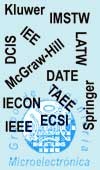 Mapa Web

Localización

Noticias

Info Santander

Gestión BD

GIM>Investigación>Publicación
PUBLICACION
Ficha completa
Título:
Guidelines for System-level design, integration and optimization
Tipo:
Informe, Estudio o Dictamen por encargo
Lugar:
Deliverable DT4.3.6 of the Artemis Scalopes Project
Fecha:
2010-12
Autores:
Daniel Calvo
Héctor Posadas
Eugenio Villar
Francisco Alcalá
David Gutierrez

Líneas:
Diseño y verificación de sistemas embebidos HW/SW

Proyectos:
Artemis SCALOPES

ISBN:
Fichero:
Resumen:
This document describes guidelines for system level design integration and optimization. These guidelines include software, hardware platform and hardware-dependent-software optimization and integration, focusing in one of the fundamental stages of the design flow for complex MPSoCs: the HW/SW simulation. Thus, it will be possible to simulate at system level the whole platform, taking into account the effect of the different components that impact the performance, the consumption, the functionality and the reliability of the system.
The guidelines described in this document are used to define a system-level optimization methodology that has been used in two different application domains by industrial partners, demonstrating the validity of the proposed approach to contribute to achieve some of the
main objectives and measures of success of SCALOPES project: reduction of power consumption, improvement of performance and development of scalable and reliable systems.
Deliverable.