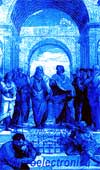 Web Map

Location

News

Santander Info

GIM>Teaching
TEACHING
The Microelectronics Engineering Group provides tuition in 3 syllabuses:

Ingeniería de Telecomunicación
Ingeniería Industrial
Ingeniería Técnica Industrial (Electrónica Industrial)

with a total of 162 credits in 18 subjets and with 851 students.

To obtain information about the subjects given by the group, follow this LINK.

If you wish to find out about the subjects given by a particular teacher in the group, visit our web page.

The group maintains a constantly updated set of teaching laboratories suitable for the practical character of our teaching.