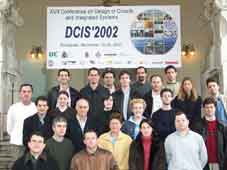 Web Map

Location

News

Santander Info

GIM>Introduction
Introduction
The Microelectronics Engineering Group formed a part of the set of people who in 1995 constituted the Department of Electronics Technology, Systems Engineering and Automatics (TEISA) of the University of Cantabria. The group was formed in the 1980s around Professor Salvador Bracho del Pino within the Department of Electronics.

During all these years the group has maintained a very active participation in R&D project in different national and international programs, as well as numerous agreements with businesses, which has guided the research lines of the group. This has also permitted the creation and constant updating of the distinct R&D laboratories: microelectronics design and digital and mixed VLSI circuit testing, which has enabled the increase in services offered.

The Microelectronics Engineering Group is situated in the Industrial and Telecommunications Engineering School where the groups teaching activities are centered. The group is involved in teaching in syllabuses: Telecommunications Engineering, Industrial Engineering and Technical Industrial Engineering (Industrial Electronics).

In 1989 we were selected as a participating institution in the project ESPRIT: "EUROCHIP: VLSI Design Action" for the formation of graduates and engineers in design techniques for integrated VLSI circuits and since then the group has maintained undergraduate courses with the object of offering a specialization in microelectronics in the different syllabuses in which we participate. In 1991 a group of our undergraduate students won the prize for the best design by students in Europe, in the 4th Workshop of Eurochip. We are still participating in the continuation of this project, EUROPRACTICE.

From the start the group has offered a doctorate program in Microelectronics, which is evolving and being updated continuously.

In 1991 we organized the VI Conference on Design of Circuits and Integrated Systems (DCIS 1991) in Santander.
In 2002 we organized the "17th edition of the Conference on Design of Circuits and Integrated Systems (DCIS 2002)".
At the moment we are organizing the "XII Annual Seminar on Automatic Control, Industrial Electronics and Instrumentation (SAAEI 2005)".