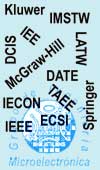 Web Map

Location

News

Santander Info

GIM>Research>Publication
PUBLICATION
Full record
Title:
Resultados del empleo de Internet en asignaturas de la Ingeniería Industrial
Type:
National Conference
Where:
V Congreso de Tecnologías Aplicadas a la Enseñanza de la Electrónica (TAEE 2002). Las Palmas de Gran Canaria
Date:
2002-02
Authors:
Yolanda Lechuga
Francisco J. Azcondo
Mar Martínez
Salvador Bracho

R&D Lines:
Formation of engineers in design and test techniques for VLSI circuits

Projects:
ISBN:
PDF File:
Abstract:
La Universidad de Cantabria lleva a cabo a partir de este curso académico 1999/2000 una experiencia educativa, consistente en el empleo de Internet para la mejora de la docencia de algunas asignaturas de los planes de estudio de Ingeniería.
Dentro de las actividades que se llevan a cabo dentro de esta experiencia, que aparece en la dirección Aula Virtual (http://gesacapc22.gestion.unican.es/aulavirtual/) de la Universidad de Cantabria, se han realizado una serie de trabajos para completar la enseñanza de la asignatura de Sistemas Electrónicos en Ingeniería Industrial, que es la primera asignatura sobre Electrónica que se imparte en dicho plan de estudios. En este trabajo presentamos el contenido de las actuaciones realizadas para estas mejoras, tanto de los contenidos como de su alcance, debido al empleo de Internet en la docencia de la asignatura de Sistemas Electrónicos.