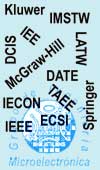 Web Map

Location

News

Santander Info

GIM>Research>Publication
PUBLICATION
Full record
Title:
Design of a Microelectronic Circuits Course Using Interactive Methods
Type:
International Conference
Where:
IEEE International Conference on Microelectronic System Education. Anaheim (CA-USA)
Date:
2005-06
Authors:
Mar Martínez
Salvador Bracho

R&D Lines:
Formation of engineers in design and test techniques for VLSI circuits

Projects:
ISBN:
0-7695-2374-9
PDF File:
see file
Abstract:
This paper presents the Basic Electronic course syllabus needed to obtain the Telecommunications Engineering degree, adapted to the criteria established by the new European Higher Education Area (EHEA). The main objectives are achieved using an e-learning, method, which includes the access to a remote laboratory for the practical work, as well as a Program of Exercises offered by means of WebCT internet tools.