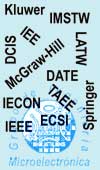 Web Map

Location

News

Santander Info

GIM>Research>Publication
PUBLICATION
Full record
Title:
Modeling, Analysis, and Verification of Cyber-Physical Systems in the Electronics Century
Type:
International Conference
Where:
Shonan Meeting, Kanagawa, Japan
Date:
2016-03
Authors:
R&D Lines:
Projects:
ISBN:
PDF File:
Abstract:
The electronics industry business model will change in the short time as Moore´s Law reaches an end. If Moore´s Law changed the world, its end may have a similar effect. Cyber-Physical Systems of Systems (CPSoS) will dominate the electronics century becoming pervasive in all the aspects of our daily lives. For the first time, the underlying technology will be stable with only incremental improvements in time. This may make it accessible to many new players looking for a competitive advantage in silicon. Investment will move from the initial stages of the value chain to those closer to the final user.
In this new scenario, modeling, analysis and verification of CPSs will have to evolve. The focus should be put on the device, not isolated but as a component in a complex, heterogeneous, distributed network of many other computing devices. Services will be offered by the interaction of functional components deployed in many distributed computing resources of many kind, from small motes, embedded systems and smart-phones to large data centers and even High-Performance Computing (HPC) facilities. Electronic design in this new context should address effectively new requirements. Among them, scalability, reusability, human interaction, easy modeling, fast design-space exploration and optimization, powerful functional and extra-functional verification, efficient handling of mixed-criticality and security, etc. An essential aspect will be the availability of powerful, platform independent SW and HW synthesis tools able to produce automatically efficient implementations of the system model on many different computing resources. In this presentation, the effect of this dramatic change in system design were discussed. A single-source approach supported by powerful design tools were proposed. Current results from the European FP7 ConTrex project were described.