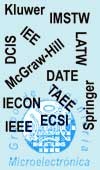 Web Map

Location

News

Santander Info

GIM>Research>Publication
PUBLICATION
Full record
Title:
The ANDRES project: Analysis and Design of Run-time REconfigurable, heterogeneous Systems
Type:
International Conference
Where:
17th International Conference on Field Programmable Logic and Applications. Amsterdam
Date:
2007-08
Authors:
A.Herrholz
F. Oppenheimer
P.A.Hartmann
A.Schallenberg
W. Nebel
C.Grimm
M.Damm
J.Haase
F.Brame
Fernando Herrera
Eugenio Villar
I.Sander
A.Jantsch
A.-M.Foulliart
M.Martínez

R&D Lines:
Design and verification of HW/SW embedded systems

Projects:
IST 033511 ANDRES

ISBN:
ISBN: 1-4244-106
PDF File:
Abstract:
Today's Heterogeneous embedded systems combine components from different domains, such as software, analoge hardware and digital hardware. The design and implementation of these systems is still a complex and error-prone task due to the different Models of Computations (MoCs), design languages and tools associated with each of the domains. Though making such systems adaptive is technologically feasible, most of the current design methodologies do not explicitly support adaptative architectures. This paper presents the ANDRES project. The main objective of ANDRES is the development of a seamless design flow for adaptive heterogeneous embedded systems (AHES) based on the modelling language SystemC. Using domain-specific modelling extensions and libraries, ANDRES will provide means to efficiently use and exploit adaptativity in embedded system design. The design flow is completed by a methodology and tools for automatic hardware and software synthesis for adaptative architectures.

Proceedings.