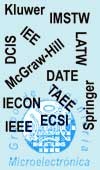 Web Map

Location

News

Santander Info

GIM>Research>Publication
PUBLICATION
Full record
Title:
Heterogeneous Specification with HetSC and SystemC-AMS. Widening the support of MoCs in SystemC
Type:
Book chapter
Where:
E. Villar (Ed.): "Embedded Systems Specification and Design Languages", The CHDL Series V.10, Springer, pp-107-121
Date:
2008-06
Authors:
Fernando Herrera
Eugenio Villar
C.Grimm
M.Damm
J.Haase

R&D Lines:
Design and verification of HW/SW embedded systems

Projects:
IST 033511 ANDRES

ISBN:
978-1-4020-82962
PDF File:
Abstract:
This chapter provides a first general approach to the cooperation of SystemC-AMS and HetSC (Heterogeneous SystemC) heterogeneous specification methodologies. Their joint usage enables the development of SystemC specifications supporting a wide range of Models of Computation (MoCs). This is becoming more and more necessary for building complete specifications of embedded systems, which are increasingly heterogeneous (they include the software control part, digital hardware accelerators, the analog front-end, etc). This chapter identifies the syntactical and semantical issues involved in the specifications which include facilities from both, SystemC-AMS and HetSC methodologies. This study also considers the availability and suitability of the MoC interface facilities pro-vided by both methodologies, especially those of SystemC-AMS, which will be proposed for future standardization. Some practical aspects, such as the current set of MoCs covered by the methodologies and the compatibility on the installation of their associated libraries are also covered by this chapter. A complete illustrative example is used to show HetSC and SystemC-AMS cooperation. Access to the chapter.