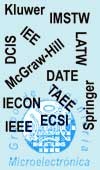 Web Map

Location

News

Santander Info

GIM>Research>Publication
PUBLICATION
Full record
Title:
Modeling and Simulation of Secure Wireless Sensor networks
Type:
International Conference
Where:
Proceedings of the 2012 Forum on Specification and Design Languages, FDL'2012, IEEE
Date:
2012-09
Authors:
Álvaro Díaz
Pablo Peñil
Pablo Pedro Sánchez
J. Sancho
J. Rico

R&D Lines:
Design and verification of HW/SW embedded systems

Projects:
TOISE

ISBN:
978-2-9530504-55
PDF File:
Abstract:
This paper describes an UML/MARTE methodology in order to model wireless sensor netoworks. This modelling methodology enables to model different sort of network attacks. Specifically, in this paper the jamming attacks are modelled.