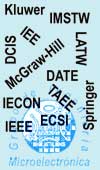 Web Map

Location

News

Santander Info

GIM>Research>Publication
PUBLICATION
Full record
Title:
HdS code generation tool development
Type:
Report, Study or Opinion by order
Where:
Deliverable DS2-T4.5-Q2-08 of the Medea+ 2A708 LoMoSa+ Project
Date:
2008-08
Authors:
Margarita Díez
Eugenio Villar
M. Martínez (DS2)

R&D Lines:
Design and verification of HW/SW embedded systems

Projects:
Medea+ 2A708 LoMoSa+

ISBN:
PDF File:
Abstract:
In this Deliverable, the work carried out towards the development of a design methodology able to automate the generation of HdS, especially the drivers, starting from a SystemC specification and adapting it to the platform in which it will be used, is presented. The final objective is to automatize as much as possible the design process, trying, at the same time, to optimize the final result. Contact the owner of the document.