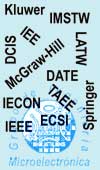 Web Map

Location

News

Santander Info

GIM>Research>Publication
PUBLICATION
Full record
Title:
Test Basado en Sensores de Corriente Internos para Circuitos Integrados Mixtos (Analógicos-Digitales)
Type:
PHD Thesis
Where:
Universidad de Cantabria
Date:
2009-09
Authors:
Román Mozuelos

R&D Lines:
Test methods of digital and mixed integrated circuits

Projects:
ISBN:
978-84692-7106-3
PDF File:
Abstract:
This thesis describes a design-for-test method for embedded mixed signal circuits. It is based on the analysis of the dynamic current consumption (IDDX), both quiescent and transient.
In order to correctly process the information contained in the transient current, the measurement is performed by a built-in current sensor circuit (BICS) integrated within the circuit under test (CUT). A structure for the sensor block has been developed to give more specific weight to the high-frequency components of the current.
The proposed structural test method aims to reduce the test time and the complexity of the measurement equipment commonly used in analog tests. Therefore, the current sensor performs internal data processing to provide a digital signature that encodes the circuit behaviour.
The thesis also extends the test method to switched capacitor circuits (SC) using a charge sensor circuit integrated within the circuit under test.