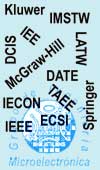 Web Map

Location

News

Santander Info

GIM>Research>Publication
PUBLICATION
Full record
Title:
Smart video processing in MPSoC demonstrator
Type:
Report, Study or Opinion by order
Where:
Deliverable DA2.3b of Artemis SCALOPES Project
Date:
2011-03
Authors:
Daniel Calvo
Pablo González
Luis Diaz
Alvaro Diaz
Pablo Sanchez
D. Gutiérrez (TTI)
F. Alcalá (VS)

R&D Lines:
Design and verification of HW/SW embedded systems

Projects:
Artemis SCALOPES

ISBN:
PDF File:
Abstract:
This document describes the communication and surveillance subsystems in addition to three video surveillance domain applications running on the SPEAr platform. The communication infrastructure is mainly based on PLC/PoE, allowing an efficient transmission of the information and taking into account the status of the communication link. The three applications are a License Plate Recognition (LPR) algorithm, an Imaging treatment subsystem for Autonomous Underwater Vehicle (AUV) and an adaptive JPEG compressor that adjusts its performance depending on the conditions of the communication subsystem. The achievements of the technical work packages have been considered, trying to demonstrate their validity to develop scalable and low power systems. Finally, a multicore system to read old water meters is presented, using design methods and tools to support parallelization and effective energy management.
Deliverable.