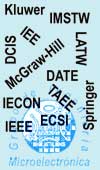 Web Map

Location

News

Santander Info

GIM>Research>Publication
PUBLICATION
Full record
Title:
Automatic synthesis of communication and concurrency for exploring component-based system implementations considering UML channel semantics
Type:
International Paper
Where:
Journal of System Architecture, V.61, I.8, pp.341–360
Date:
2015-09
Authors:
Héctor Posadas
Pablo Peñil
Alejandro Nicolás
Eugenio Villar

R&D Lines:
Design and verification of HW/SW embedded systems

Projects:
FP7 288307 PHARAON

ISBN:
1383-7621
PDF File:
Abstract:
This paper presents an automatic code generation approach focusing on communication channel semantics. The approach proposes the use of UML/MARTE models to enable designers to graphically handle dependencies and concurrency of the models. As a result, the automatic generation process enables multiple design alternatives to be easily obtained and evaluated without adding manual effort to the design process.

Paper.