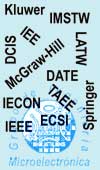 Mapa Web

Localización

Noticias

Info Santander

Gestión BD

GIM>Investigación>Publicación
PUBLICACION
Ficha completa
Título:
Data flow analysis from UML/MARTE models based on binary traces
Tipo:
Publicacion en Proceedings o Actas internacionales
Lugar:
DCIS 2020 (accepted)
Fecha:
2020-11
Autores:
Héctor Posadas
Javier Merino
Eugenio Villar

Líneas:
Proyectos:
ISBN:
Fichero:
Resumen:
The design of increasingly complex embedded systems requires powerful solutions from the very beginning of the design process. Model Based Design (MBD) and early simulation have proven to be capable technologies to perform initial design space analysis to optimize system design. Traditional MBD methods and tools typically rely on fixed elements, which makes difficult the evaluation of different platform configurations, communication alternatives or models of computation. Addressing these challenges require flexible design technologies able to support, from a high-level abstract model, full design space exploration, including system specification, binary generation and performance evaluation. In this context, this paper proposes a UML/MARTE based approach able to address the challenges mentioned above by improving design flexibility and evaluation capabilities, including automatic code generation, trace execution collection and trace analysis from the initial UML models. The approach focuses on the definition and analysis of the paths data follow through the different application components, as a way to understand the behavior or the different design solutions.