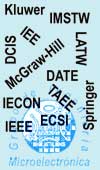 Web Map

Location

News

Santander Info

GIM>Research>Publication
PUBLICATION
Full record
Title:
SW simulation technologies in virtual platforms
Type:
International Conference
Where:
Class 6: "Embedded SW Development on Virtual Platforms - Ready for Prime Time?", Embedded World 2012, Nuremberg
Date:
2012-02
Authors:
Eugenio Villar
Héctor Posadas

R&D Lines:
Design and verification of HW/SW embedded systems

Projects:
FP7 IP 247999 COMPLEX

ISBN:
PDF File:
see file
Abstract:
Current electronic systems are based on multi-processor, systems-on-chip, the last frontier of very-large scale integration technology. In these systems, most of the functionality is implemented as embedded SW running on the multiprocessing platform in close interaction with the rest of the platform resources (communication infrastructure, peripherals, application-specific HW, etc.). In this context, there is a need to develop virtual prototypes able to allow the designer to verify the correctness of the design and to analyze its performance (timing, power consumption, etc.) at the different design steps. Traditional techniques like functional modeling and simulation are fast but can hardly provide accurate performance metrics. On the other hand, ISS simulation is very accurate but too slow. Native simulation and virtualization are the new SW simulation techniques able to provide fast and accurate enough solutions. In this lecture an overview of current SW simulation and performance analysis techniques is provided.

Class.