This school is envisioned to be a worldwide top International forum (every fourth week of June) on Light Sciences and Technologies in the framework of a "special top university" that is recognized as the "university of universities" and in a privileged environment "the Royal Magdalena Palace" in Santander, Cantabria, Spain. Each edition of this international school will have an intensification or main core in a specific application area and additional current hot topics. Light in Sources, Health and Medicine is the core of this 2019 edition.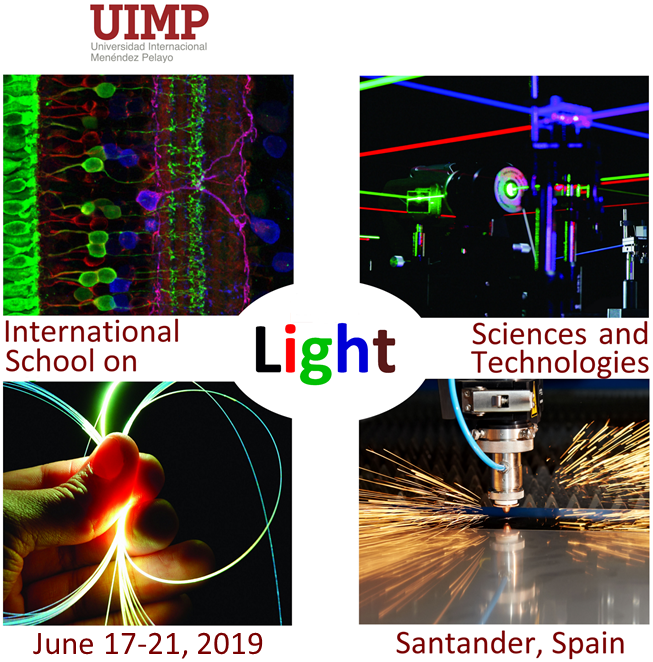 ISLIST has been conceived as a great opportunity to review, actualize and improve the knowledge of scientists, professionals and technicians; to contribute to the education and to enhance the motivation of PhD students; to offer an ideal frame for networking and also to contribute to the education of the citizens. It is also a great opportunity to ensure that policymakers, entrepreneurs, and other key "actors" will be aware of the problem-solving potential of Photonics.
Photos and Final Report from the 2018 edition
You can see a selection of photos from the past edition in this link , and the final report with a summary of all the activities in this link.
Final program for the 2019 edition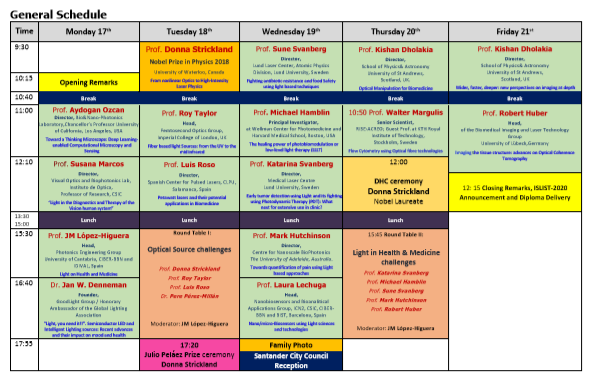 Detailed program for the 2019 edition: link
Invited Speakers for the 2019 edition
The following speakers have been confirmed for this 2019 edition of ISLiST:
INVITED

AFFILIATION

TITTLE

Prof. Donna Strickland

Nobel Prize in Physics 2018

University of Waterloo, Canada

High Intensity and Ultrafast Laser Pulses and their Intearction with Matter

Round table:

Challenges faced to reach a new method of generating high intensisty ultrashort optical pulses

Prof. Aydogan Ozcan

Director

Bio&Nano-Photonics Laboratory, University of California, HHMI Professor, Howard Hughes Medical Institute, Los Angeles, USA

Toward a Thinking Microscope: Deep Learning-enabled Computational Microscopy and Sensing


Prof. Susana Marcos

Director

Visual Optics and Biophotonics Lab, Instituto de Óptica, CSIC, Madrid, Spain

Light in the diagnostics and therapy of the human vision system

Dr. Jan W. Denneman

Founder

Founder of CarpeLucem, former Vice-President Philips Lighting; Honorary Ambassador of the Global Lighting Association, Netherlands

"Light, you need it!" Semiconductor LED and Intelligent Lighting sources: Recent advances and their impact on mood and health

Prof. Mark Hutchinson

Director

Centre for Nanoscale BioPhotonics, The University of Adelaide, Australia

Towards quantification of pain using Light based approaches

Round table:

Challenges on translational biophotonics to quantify brain health

Prof. Kishan Dholakia

Director

School of Physics& Astronomy,
University of St Andrews,
Biomedical Sciences-Research complex
Scotland, UK

Optical Manipulation for Biomedicine

Wider, faster, deeper: new perspectives on imaging at depth

Dr. Walter Margulis

Senior Scientist

RISE-ACREO; Guest Prof. at KTH Technology, Stockholm, Sweden

Flow Cytometry using Optical Fibre technologies

Prof. Robert Huber

Head

Head of the Biomedical Imaging and Laser Technology Group, University of Lübeck, Germany

Imaging the tissue structure: advances on Optical Coherence Tomography

Round table:

Challenges on OCT clinical applications

Prof. Michael Hamblin

Harvard Medical School and Principal Investigator at Wellman Center for Photomedicine,
Massachusetts General Hospital
Boston, USA

The healing power of photobiomodulation or low-level light therapy

Round table:

Challenges on LLLT real clinical applications

Prof. Roy Taylor

Head

Femtosecond Optics Group,
Imperial College of London, UK

Fiber based light sources: from the vacuum UV to the mid infrared

Round table:

Challenges on broadband fiber laser sources for medicine

Prof. Laura M. Lechuga

Head

Nanobiosensors and Bioanalitical Applications Group, Catalan Institute for Nanoscience and Nanotechnology, Barcelona, Spain

Nano/micro-biosensors using light sciences and technologies

Prof. Luis Roso

Director

Centro de láseres pulsados, Salamanca, Spain

Petawatt lasers and their applications in biomedicine

Prof. Sune Svanberg

Director

Lund Laser Center, Atomic Physics Division, Physics Department, Lund University, Sweden

Fighting antibiotic resistance and food safety using light based techniques

Prof. Katarina Svanberg

Lund University Hospital, Division of Oncology, Sweden

Early tumor detection using light and its fighting using photodynamic therapy: whats next for extensive usin in clinic?

Dr. Pere Pérez-Millán

Founder & CTO

Fyla Lasers, Valencia, Spain

Round table:

Optical Sources challenges to face for a successful innovation process
More Information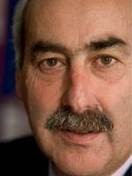 DIRECTOR: José Miguel López Higuera
Head of the Photonics Engineering Group
University of Cantabria
This email address is being protected from spambots. You need JavaScript enabled to view it.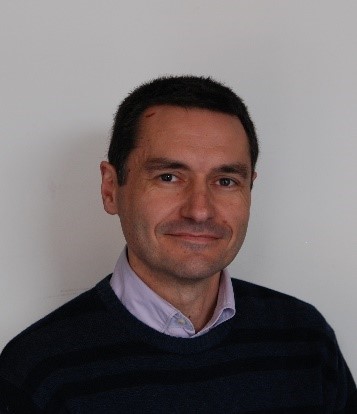 SECRETARIAT: Adolfo Cobo
Photonics Engineering Group
University of Cantabria
This email address is being protected from spambots. You need JavaScript enabled to view it.